Arid Recovery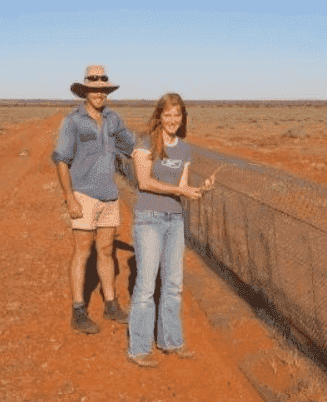 Arid Recovery is a landscape scale restoration project situated 20km north of Roxby Downs in arid South Australia. Katherine Moseby and John Read were co-founders of Arid Recovery, along with David Paton (The University of Adelaide) and Peter Copley (SA DEWNR). Katherine was the inaugural manager of the program and they were both intimately involved with the development and management of this nationally significant conservation and restoration project from its inception in 1997 till they left Roxby Downs in 2009.
Arid Recovery has successfully reintroduced four locally-extinct threatened mammals to a landscape-scale cat, fox and rabbit-proof reserve in northern South Australia. Arid Recovery also aims to demonstrate that mining, pastoral and conservation organisations could (and should) work together for mutual benefits. John and Katherine retain an active involvement with Arid Recovery through assistance with monitoring and research and membership of the Scientific Advisory Committee.

To find out more about this exciting project please visit www.aridrecovery.org.au
Tetepare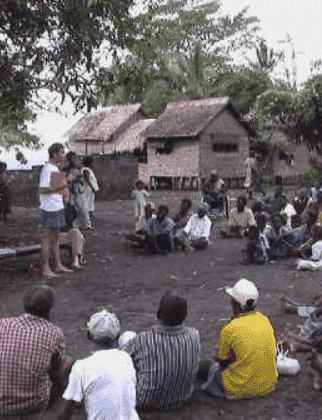 At 118 square kilometres, Tetepare Island is the largest uninhabited island in the South Pacific. Tetepare supports pristine lowland rainforest and a rich inshore marine area. The island was originally inhabited by headhunters who fled the island in the mid-19th century and settled on neighbouring islands. The island supports populations of threatened leatherback turtles, the endemic white eye, the world's largest skink, dugongs, a rich marine life and the endangered coconut crab. The island was under threat from logging in the early 1990's when John Read and Katherine Moseby visited the Solomons Islands on their honeymoon. After visiting the island they became enchanted by its pristine rainforests and coral reefs and decided to help local villagers preserve the island. Threats from international logging companies loomed but with assistance from Katherine and John and international aid agencies, landholders formed the Tetepare Descendants Association. The organisation initiated a conservation management program which was managed by John and Katherine for the first 3 years before being handed over to local staff. Now home to the one of the Solomon Islands' leading conservation projects and a unique, locally-owned and managed ecolodge, Tetepare's natural abundance attracts visitors from around the world. John and Katherine are patrons of the Tetepare Descendants Association and visit annually to assist with research and monitoring programs and provide management advice to local staff.
The island has been recognized for its conservation significance and archaeological values. A total of 73 bird species, 24 reptile, four frog and 13 mammal species have been recorded on Tetepare including rare and endemic bird and bat species.
The recently launched book The Last Wild Island : Saving Tetepare is an insite to this facinating island and its custodians.
Further information about Tetepare.
Tetepare needs your help!
For the latest updates from Tetepare and how to visit the ecolodge or research station www.tetepare.org

To contribute essential (and tax deductable!) funds for conservation activities or education scholarships contact Conservation Ark Tetepare page or Save Your World Foundation.
Middleback Alliance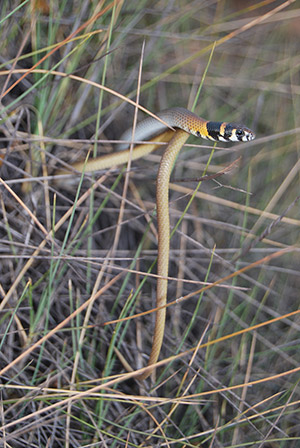 Ecological Horizons are part of the Middleback Alliance, a partnership between the South Australian Department for Environment, Water and Heritage, Arrium Mining, Ecological Horizons and other local landholders. The Alliance aims to sustainably manage both private and public land in the region of the Middleback Ranges on the Eyre Peninsula, South Australia. Within the Middleback Alliance area, Ecological Horizons owns the Secret Rocks Nature Reserve, a 259 square kilometre area of mallee scrub which has been placed under a conservation covenant. On ground actions which are initiated by the Alliance include goat, rabbit and fox control, fire and threatened species management and engagement of regional land managers and volunteers.
A Federal Caring for Our Country grant was recently secured by Ecological Horizons and is currently being used to implement on ground outcomes in the Middleback Alliance region. Activities include Malleefowl nest monitoring and surveys for threatened species including the sandhill dunnart.
Recent developments include building an exclosure to protect the nationally threatened plant, Acacia cretacea, implementing a remote camera monitoring program for goats and foxes and trialing eradicat cat baits as a means of controlling feral cats.
Ecological Horizons have successfully applied for Green Army teams to assist in the construction of herbivore exclusion fences to help manage goats, rabbits, kangaroos and feral predators to recreate denser habitat and better conditions for malleefowl and sandhill dunnart recruitment.
Tracking Australia
Ecological Horizons and Envisage Environmental Services have initiated "Tracking Australia", a track-based monitoring system for recording changes in distribution of arid zone species. A series of 2 ha plots are monitored on sandy substrate and the presence of animal tracks, burrows, scats and other sign recorded. By replicating plots over large areas and long time frames, information on changes in the distribution of nationally threatened arid zone species can be determined.
" Tales in the Sand, a guide to identifying arid zone fauna using spoor and other sign" is an identification manual written by Katherine Moseby, Theresa Nano and Rick Southgate which aims to encourage and train arid zone residents and visitors in the new technique. Data will be stored on a national database and anyone interested in contributing to this national database or obtaining a copy of the booklet can contact Katherine or Rick at Tracking Australia (trackingaustralia@gmail.com).
Feral Cat Grooming Trap
Feral cats continue to be the major cause of extinction of many natural and reintroduced populations of mammals and birds and conventional baiting, shooting and trapping are often not sufficient to reduce cat predation rates sufficiently. Cats are reluctant to take baits or enter traps when live prey are abundant. Ecological Horizons have been developing a novel technique that sprays cats with toxic gel that they ingest whilst grooming, hence circumventing the problem of having to lure cats to food baits.
With funding assistance from SA Government Innovation vouchers, SA DEWNR, The Foundation for Australia's Most Endangered Animals, Sporting Shooters Association of Australia, Bush Heritage Australia, The Government of Australia and Electranet, Ecological Horizons have funded and managed the optimisation of grooming traps by SA engineering design firm Applidyne. The original prototype field tested at Venus Bay CP in 2015 incorporated four rangefinder sensors, a programmable audiolure, a camera that photographs all activations, solar-charged battery and an electric motor-tensioned spring that fires sealed doses of toxic gel at 60m/second. The sensors ensure that animals smaller or larger than a cat or fox do not activate the trap which holds 20 measured doses and can operate without intervention for several months. Five optimised units are being tested in early 2016 at a range of field sites prior to production of more units to be deployed as a sustainable tool to control trap- or bait-shy cats in areas of high conservation value.
WOMPA? - Inspiring Kids, Empowering Naturalists, Informing Biologists
Wompa? is a central Australian aboriginal word for 'I don't know!' and is used when something new is found out bush.
How does an inquisitive school kid identify the strange critter or track they have found if mum, dad or their science teacher can't help? Where does a fisherman go to identify a bizarre crab that he has not seen before, or an outback mine worker go to identify prehistoric shrimps or brilliant daisies that emerge after rain? When a farmer locates an unfamiliar pest, a bushwalker photographs an amazing spider or Parks friend finds a flowering shrub that they can't identify with their field guide, where do they turn?
In the past they would have probably had to collect a specimen and transport it to a specialist or try to describe their find to an expert over the phone or radio. However, if these same people wanted to locate a spare part, find the cheapest deal, or even find out everything published about a certain plant or animal they would probably 'Google' it, maybe from their iPhone.
Now, to answer their natural history question, all they have to do is 'WOMPA?' it!
WOMPA is an interactive web-based initiative that provides a user-friendly interface for:
enabling images of plants, animals and other biological records to be provisionally identified (with credible and notable records being forwarded to the National biological database)
generating interest and skills in observing, identifying and recording environmental data
informing the public and land managers of species that are conservation-rated, pests or of research interest in their region
Visit www.bowerbird.org.au, sign up and follow the links to either submit your photo to the WOMPA? project (or another specialised or local project) or help someone else identify their records.